–
L.E.V. Festival Matadero announces new confirmations
Organized by Matadero Madrid in a co-production with Cineteca Madrid and Datatron Platform, L.E.V. Matadero will offer four days full of experiences of unique, cutting edge audiovisual creations

James Ferraro, Ikonika, Myriam Bleau, Mr. Mitch, Bvdub, Babii, Skygaze, Hidden Jayeem, Lucie Antunes and Push 1 stop & Wiklow are some of the new additions to the Festival's line up 

New section Vortex will include audiovisual live shows generated inside virtual worlds, video games developed in real time and projects generated with old systems of representation in 3D that pursue the physicality of light
Tickets for L.E.V. Matadero are already available in www.levfestival.com
–
Between October 17th and 20th 2019, L.E.V. Matadero Festival will explore the avant-garde of contemporary digital creativity in four days full of unique, cutting-edge experiences of audiovisual creations: audiovisual shows, performances, installations and sound experiences. The Festival's extensive line up will take place at several spaces of Matadero Madrid such as Nave 16 (equipped with the immersive Soundscape sound system, designed by d&b audiotechnick), Nave 0, Plaza Matadero and Cineteca Madrid.
Besides some of the greatest names in electronica and audiovisual creation already confirmed, such as Morton Subotnick (with Lillevan and Alec Empire), Aïsha Devi, Plaid or Ryochi Kurokawa, the Festival announces new confirmations like James Ferraro, Djrum, Ikonika, Skygaze, Mr. Mitch, Babii, Hidden Jayeem, Lucie Antunes, Bvdub and Promising/youngster, to name just a few.
–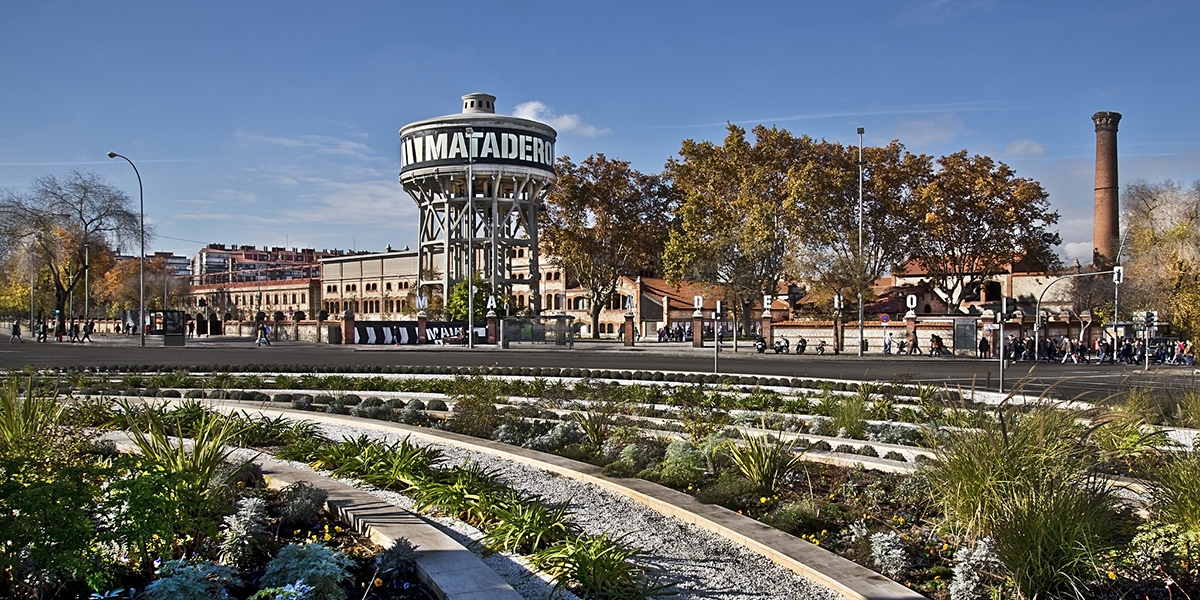 Premiere of Requiem for Recycled Earth with Oboe and flute, James Ferraro's latest project
At L.E.V. MATADERO, Ferraro will premiere a piece of a generative music composition inspired by Requiem for Recycled Earth, the first of the four parts that compose his great epic work Four Pieces of Mirai. The artist builds a philosophical allegory about the decline of civilization, and shows us a dystopian, frightening present under the cloak of a poetic, contemplative music score.
A generative music system, performed with the live accompaniment of flute and oboe, in an audiovisual format thanks to the collaboration between Ferraro and digital artist Maotik, which has been written specifically to be felt and heard through the Soundscape sound system installed in Nave 16.
Eclecticism, avant-garde and genre mixing at Plaza Matadero
On Saturday 19th and Sunday 20th, Plaza Matadero will showcase works by young emerging acts and by more consolidated artists which redefine the coordinates in contemporary music. They create new trends and innovative languages. They are the avant-garde of club sound and culture.
The programme will be divided in three sessions. In the First Session, on Saturday 19 from 13:00, the audience will enjoy a nice concoction of dubstep, garage, techno and dub served by Djrum, and two musicians included in the new Reebok Classic campaign that pays tribute to ICONS: a live set by Ikonika presented by Reebok, a key figure in Hyperdub (the label that turned electronica upside down twenty years ago), exploring new genres like R&B or Bashment; and Skygaze presented by Reebok, who will premiere live his fourth album, Bloom, a diverse musical project based on abstract beat-construction.
The Second Session, starting on Saturday 19 at 21:00, will begin with Mr. Mitch, from Planet Mu team and co-founder of blazing Gobstopper label, will showcase an audiovisual live show to defend his particular sound, deeply rooted in instrumental Grime. In another A/V live show, extremely young Babii will play her highly original blend of pop/R&B with innovative electro touches, thick, layered synths and heavy basses with a semi industrial feel to them. Finally, Madrid artist Hidden Jayeem will play music wrapped in an atmosphere of Future Garage sounds and trancey arpeggios.
Monday morning Third Session will be devoted to sounds and textures closer to ambient and the most emotional and organic electronic sounds. Sergei, the new and sophisticated project by percussionist Lucie Antunes, will reveal us her particular reinvention of dance floor sounds: instrumental, percussive music created with vibraphones, marimbas, drums, modulars and vocals. Bvdub (American artist Brockvan Wey, an emblematic name in the worldwide ambient scene), will showcase his overtly emotional and hypnotic sound. The Session will be closed by the always fresh and stimulating Promising/youngster, and his peculiar fusion of IDM: Downtempo, ambient and shoegaze, adapted to a live show by using multiple hardware instrumentation.
Audiovisual explorations and live experiments at Cineteca Madrid
Vortex is the new section of L.E.V Matadero Festival dedicated to hybrid projects born in the crossroads of cinema, arts and technology, video games and electronic creations. Nave 0 and Cineteca Madrid will host immersive experiences such as VR installations, a Virtual Reality cinema, screenings and performances that use the World Wide Web as a work tool in real time.
Curated by L.E.V. with the support of several international institutions, Vortex will showcase a group of works halfway between cinema, arts, technology, thinking, video games and electronic creations, which make use of very different technologies to generate virtual worlds and to open doors to new ones.
Combining the beats of her acoustic drum kit with her digital creations, Rrucculla (Bilbao) will play an audiovisual live set full of experimentation and jazz influences, pop-infused melodies, compressed noises and visual collages. Another AV format will bring us the premiere of Dead Skin Cells, collaboration between Kamikaze Space Programme and visual artist Geso (Madrid), where KSP's tense atmospheres blend with Geso's visual imaginary, generating collisions of glitches, noise and 3D abstractions. Zone W/O People is an original creation by Oklou and Krampf, a video game with a soundtrack also written by them, where the traditional show concept turns into an unusual live experience through a game played in real time.
Recsun, alias of Clifford Sage, a member of the Quantum Natives collective and regular collaborator of artists from Somerset House Studios such as Lawrence Lek or Werkflow, will showcase his project Tuner, about the construction of virtual worlds in real time. Glad Scientist will present Intersect, a performance where all audiovisual elements are controlled by a single instrument: a VR headset that adopts the perspective of a nanobot while traversing a human neural network. Finally, access to the subconscious mind through senses is the origin of Infiltrate Live av, the new audiovisual live project by Shoeg.
Vortex will pay special attention to works created by Canadian artists included in Focus Quebec, such as Eternity Be Kind, a collective experience by Myriam Bleau and the digital avatar LaTurbo Avedon which suggests a different future of representation, both in musical and personal terms, halfway between hyperpop and mythical symbolism with some baroque touches; Membrane, by Push1stop &Wiklow, is a generative creation, something between a performance and an AV installation, that works as an optical illusion to redefine our perception of light and space; and the retrofuturistic performance Imaginary Optics I & II by Maxim Corbeil-Perron, where a powerful immersive experience is created through stereoscopic anaglyphs (the 3D glasses everybody knows).
Ticket sale info
Tickets available in: www.levfestival.com
Get one before they are gone!
Tickets for other spaces and activities will be available soon.
Updates to come.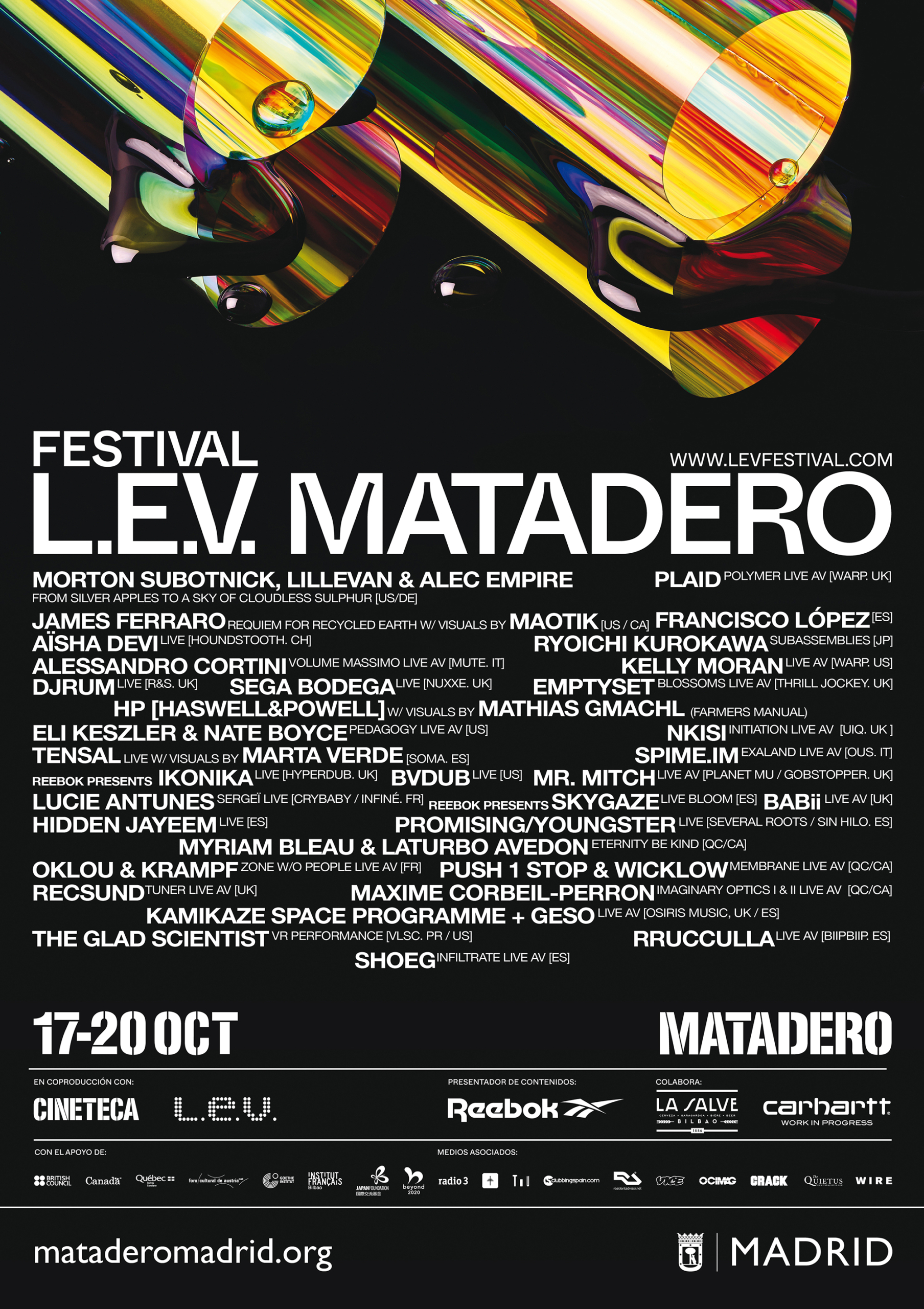 L.E.V. MATADERO 2019 | LABORATORIO DE ELECTRÓNICA VISUAL | Edition 1 
Nave 16
Morton Subotnick, Lillevan & Alec Empire: From Silver Apples to a Sky of Cloudless Sulphur [Us/De]
Plaid: Polymer Live Av [Warp. Uk]
James Ferraro: Requiem for Recycled Earth w/ visuals by Maotik [Us / Ca]
Francisco López [Es]
Aïsha Devi Live [Houndstooth. Ch]
Ryoichi Kurokawa: subassemblies 
[Jp]
Alessandro Cortini: Volume Massimo Live Av [Mute. It]
Kelly Moran Live Av [Warp. Us]
Djrum Live [R&S. Uk]
Sega Bodega Live [NUXXE. Uk]
Emptyset: Blossoms Live Av [Thrill Jockey. Uk]
HP [Haswell&Powell] w/ visuals by Mathias Gmachl (Farmers Manual)
Eli Keszler & Nate Boyce: Pedagogy Live Av [Us]
Nkisi: Initiation Live Av [UIQ. Uk ]
Tensal Live w/ visuals by Marta Verde [Soma. Es]
Spime.IM: Exaland Vr Performance [ous. It]
Plaza Matadero
Reebok presents Ikonika Live [Hyperdub. Uk]
Djrum [R&S. Uk]
BVDub Live [Us]
Mr. Mitch Live Av [Planet Mu / Gobstopper. Uk]
Lucie Antunes: Sergeï Live [Crybaby / Infiné. Fr]
Reebok presents Skygaze Live: Bloom [Es]
BABii Live Av [Uk]
Hidden Jayeem Live [Es]
Promising/Youngster Live [Several Roots / Sin Hilo. Es]
 
Cineteca. [Plató.VORTEX]
Myriam Bleau & LaTurbo Avedon: Eternity Be Kind [Qc/Ca]
Oklou & Krampf: Zone W/O People Live Av [Fr]
Push 1 stop & Wiklow: Membrane Live Av [Qc/Ca]
Recsund: Tuner Live Av [Uk]
Maxime Corbeil-Perron: Imaginary Optics I & II Live Av  [Qc/Ca]
Kamikaze Space Programme + Geso Live Av [Osiris Music, UK / Es]
Rrucculla Live Av [BIIPBIIP. Es]
The Glad Scientist Vr Performance [VLSC. Pr / Us]
Shoeg: Infiltrate Live Av [Es]
More info www.levfestival.com y www.mataderomadrid.org
–
Press contact:
L.E.V. | Pilar Rodríguez | prensa@levfestival.com
Matadero Madrid | Myriam González | comunicacion@mataderomadrid.org | PH. 689 023 578