–
L.E.V. Festival reveals first names of its first edition at Matadero Madrid
Laboratorio de Electrónica Visual (L.E.V.) keeps on exploring the most cutting edge side of digital creativity. This work results in a programme able to build on unique experiences through all the different audiovisual creation projects and acts, which will take place for the first time at Centro de Creación Contemporánea Matadero Madrid, after 13 editions in Gijón.
Between October 17th and 20th 2019, L.E.V. Matadero, co-produced by Matadero Madrid, Cineteca Madrid and Datatron Platform, will showcase audiovisual shows, performances, installations, sonic experiences and hybrid projects in the field of audiovisual composition, different projects that will create new narratives and formats. The event will occupy almost the whole Centro de Creación Contemporánea, with activities at Nave 16, Nave 0, Plaza Matadero, Cineteca Madrid and the Taller.
–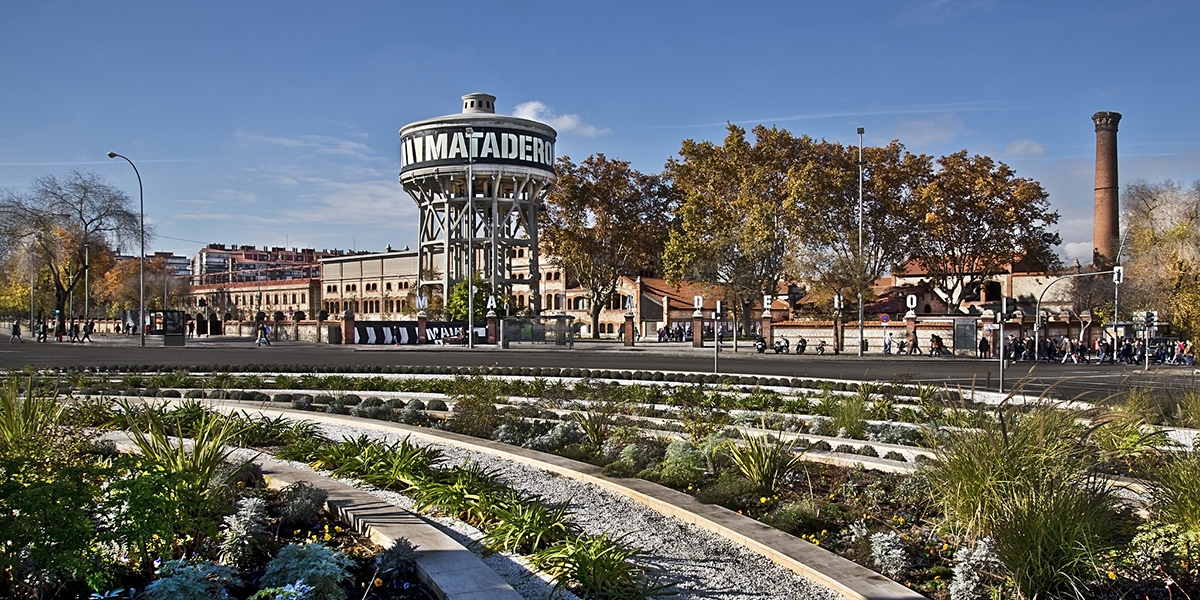 A new section, immersive experiences and virtual worlds
In its first edition at Matadero, L.E.V. will introduce a new section devoted to immersive experiences: Vortex (VRTX), an event about new formats of digital composition and virtual worlds.
Vortex will showcase works in the crossroads of cinema, arts and technology, gaming and electronic creations, all distributed in different spaces. Immersive reality will be shown in all its strands, both spatial and virtual, in order to generate an international node of discussion about these new languages and tools, and bring them to the audience in the closest and most accessible way.
Soundscape Sound at Nave 16
Nave 16 will be equipped with Soundscape, an immersive sound system designed by d&b audiotechnik, which will enable the audience to listen and feel all the shows in this space in a unique way.
This venue will host projects by international artists who work in the field of avant-garde electronic sound creation. Some of them have been created exclusively for this immersive sound system, like Morton Subotnick, who will revisit his work Silver Apples of the Moon with the help of Alec Empire and Lillevan; Francisco López, renowned internationally for his immersive performances in the dark; Aisha Devi and her new work; and a live show by Djrum.
We will also have the chance of enjoying the most recent works by names already present in the history of L.E.V., as Japanese artist Ryoichi Kurokawa's stage comeback with subassemblies, or the legendary Plaid (Warp) showcasing Polymer Live Av.
There are more additions to our bill, more emerging acts in the field of audiovisual experimentation, such as SPIME.IM and its project Exaland, a VR audio reactive performance, and a live show by Sega Bodega with scenography by Shaun Murphy, the person behind the visual elements in Lanark Artefax's live show; the first, and maybe the last, audiovisual live show by Tensal (Héctor Sandoval) with artist Marta Verde, specially designed for Matadero's Nave16.
In this Madrid Edition of L.E.V. there will also be room for the most experimental and abrasive sounds, courtesy of HP, a new collaboration between Russell Haswell and Powell, with visuals by Mathias Gmachl, founding member of the legendary Farmers Manual; after their appearance at Unsound, Emptyset will premiere Blossoms, a work generated with new tools of creative composition, such as artificial intelligence and CGI visuals; and Initiation by co-founder (with Chino Amobi) of New York NON Worldwide collective Nkisi, a collaboration with visual artist Charlie Hope, a radical and visceral interrogation of the AV show format.
Intense and emotional electronics will be supplied by Kelly Moran, whose works includes elements of jazz and dream pop, neoclassical music or black metal; the showcase of Volume Massimo, the new AV work by  Alessandro Cortini, which combines his taste for good melodies and severe experimentation; and the astonishing Pedagogy, a joint effort by Eli Keszler and Nate Boyce (regular collaborators of Oneothrix Point Never) located in the crossroads of hard fusion, metal, electronic and industrial percussion.
Ticket sale info
Tickets available from August 9
Get one before they are gone!
Tickets for other spaces and activities will be available soon.
Updates to come.
L.E.V. MATADERO 2019 | LABORATORIO DE ELECTRÓNICA VISUAL | 1st Edition (Preview)
– Morton Subotnick, Lillevan & Alec Empire: From Silver Apples to a Sky of Cloudless Sulphur [Us/De]
– Plaid: Polymer Live Av [Warp. Uk]
– Francisco López [Sp]
– Aïsha Devi Live [Houndstooth. Ch]
– Ryoichi Kurokawa: subassemblies
[Jp]
– Alessandro Cortini: Volume Massimo Live Av [Mute. It]
– Kelly Moran Live Av [Warp. Us]
– Djrum Live [R&S. Uk]
– Sega Bodega Live [NUXXE. Uk]
– Emptyset: Blossoms Live Av [Thrill Jockey. Uk]
– HP [Haswell&Powell] w/ visuals by Mathias Gmachl (Farmers Manual)
– Eli Keszler & Nate Boyce: Pedagogy Live Av [Us]
– Nkisi: Initiation Live Av [UIQ. Uk ]
– Tensal Live w/ visuals by Marta Verde [Soma. Sp]
– Spime.IM: Exaland Live Av [ous.It]