Laboratorio de Electrónica Visual reveals first names for 13th L.E.V. Festival-Gijón

Laboratorio de Electrónica Visual continues to explore the most cutting edge side of digital creativity, and the 13th L.E.V. Festival-Gijón will offer an enticing line-up full of groundbreaking audiovisual experiences. This unmissable cultural event will take place on May 2-5 at several locations of Laboral Ciudad de la Cultura and the city of Gijón, and it is a joint undertaking between the Government of the Principality of Asturias, the Town Council of Gijón, LABoral Centro de Arte and Datatrón Collective.
The first preview of L.E.V. Festival's line-up includes several world premieres of international artists, leaders in electronic sound creation and new artistic trends; works such as the performance ScanAudience and the projects ex(O), Delta-T, or Synspecies, co-produced by L.E.V. over the course of several artistic residences at LABoral Centro de Arte.
Alex Augier returns with another L.E.V. regular, Alba G. Corral, to premiere ex(O), the second installment of a poetic, audiovisual diptych inspired in the world of biology. It is a living, evolving piece where sound, image, space and time co-exist. The L.E.V. Festival will host the world premiere of this project, co-produced with Arcadi and La Muse en Circuit.
Inspired by virtual ecologies, Elías Merino and Tadej Droljc will showcase the international premiere of the audiovisual live show Synspecies at Gijón. It will consist of abstract architectures and algorithmic sounds which explore states of confusion in an unreal, physical world, a sort of synchronized chaos which reveals new spaces in a process of perpetual disintegration.
Another L.E.V. world premiere: Delta-T. Matthew Biederman and Pierce Warnecke will explore recent ideas and theories concerning quantum physics, gravity and relativity, to defy compositions based on time. The result: a powerful aural and visual experience whose last stage will take place at Laboral Centro de Arte.
Last year, two-piece Schnitt charmed us with their artistic investigation into visual memory, and in 2019 Marco Monfardini and Amelie Duchow will return to Gijón accompanied by Gianluca Sibaldi to bring us the international premiere of ScanAudience, a performance which will try to scan the audience in real time. The spectators will be the main characters in this interactive show, where they will be part of a visual and sound experience conducted by the three artists.
The Berlin-based collective Transforma is also coming back to Gijón with Manufactory, a performance with music by Sascha Ring (the extraordinary Apparat, present at the first L.E.V. Festivals). A live video, choreographies and music to reinterpret human work, from artisans to factories and the cycles of modern production. The work is co-produced by Laboratorio de Electrónica Visual with The Barbican, TodaysArt Festival, Schauspielhaus Bochum and Stereolux.
One of the most captivating moments of the 13th L.E.V. Festival will be the premiere of the first collaboration between sound researcher Caterina Barbieri and visual artist Ruben Spini, an audiovisual piece that was a big success for the Italian duo at Berlin's Atonal Festival. This work will enable the audience will be able to travel through a rigid, delicate soundscape, while admiring the beauty of isolated environments.
The corrosive, abstract techno and futuristic audiovisual live show by Lanark Artefax will invade the Teatro de la Laboral. A unique opportunity to enjoy a live performance by one of the biggest revelations in contemporary IDM, very well received by critics, producers and the public since his debut on the renowned Whities label.
Elizabeth Walling's first live show in Spain took place at L.E.V in 2015. She comes back for our 13th Festival with her art project Gazelle Twin. Her live performance at Nave de LABoral will include the tracks from her new album Pastoral, a real soundtrack written by Walling due to her disillusionment over Brexit. Despite the title, Pastoral is anything but bucolic, and her live show blends vocals and samples to reveal the bitterness underlying a green and… pastoral England.
The L.E.V. Festival will host the first appearance in Gijón by Bliss Signal, the powerful project from James Kelly (Wife, Altar of Plagues) and Jack Adams (Mundance), which goes beyond Kelly's black metal to generate transcendent fury.
Hiro Kone's tense techno, industrial minimalism and sonic unrest are encapsulated in her new album, Pure Expenditure (Dais). In Gijón, this American songwriter will display her most emotional work, woven into a labyrinth of electronic patterns.
Australian audiovisual artist Robin Fox visits the L.E.V. Festival for the first time to present his new creation, Single Origin, the third of a series of works with lasers and sounds which explore the possibilities of a machine-induced synaesthesia.
Another newcomer to L.E.V. is London producer Keith Tenniswood (one half of legendary Two Lone Swordsmen), with his very personal project Radioactive Man, focusing on electro, bass music and robotic sounds.
Veteran producer Oliver Ho will bring his most experimental project to L.E.V.: Broken English Club. The audience at this performance will enjoy the sound of his latest album, White Rats, released by the L.I.E.S. label.
London artist Iglooghost creates and develops his music, videos and images using the imaginary world of Mamu. La Nave de LABoral will house a piece of Mamu, a place inhabited by strange gods and floating giants, a fantasy world with its own language and biology, and which grows with each new record released by this artist. It will doubtlessly be L.E.V. 2019's most peculiar soundtrack.
The bill will also feature the electronic textures of Klara Lewis, the Swedish songwriter with her critically acclaimed debut album, ETT. This expressive, intuitive sound sculptor shapes her creative music to fit with found audio samples and recordings. The festival will see her present her new audiovisual project.
Completing this first preview of L.E.V. Festival are brothers Tom and Ed Russell (Truss and Tessela), with their project Overmono. Their live show offers immersive experiences, brimming with intensity and a passion for techno. A muscular sound, powerful and penetrating, to listen and dance to at Nave de LABoral.
TICKET SALE
Tickets available from Thursday, January 17
2 day ticket (Friday and Saturday): € 50. Pre-orders only.
Get one before they are gone!
Tickets for specific activities, like the ones scheduled for Sunday, May 5, at the Botanical Garden or the Caja Escénica at Teatro de La Laboral, will be available soon.
Updates to come.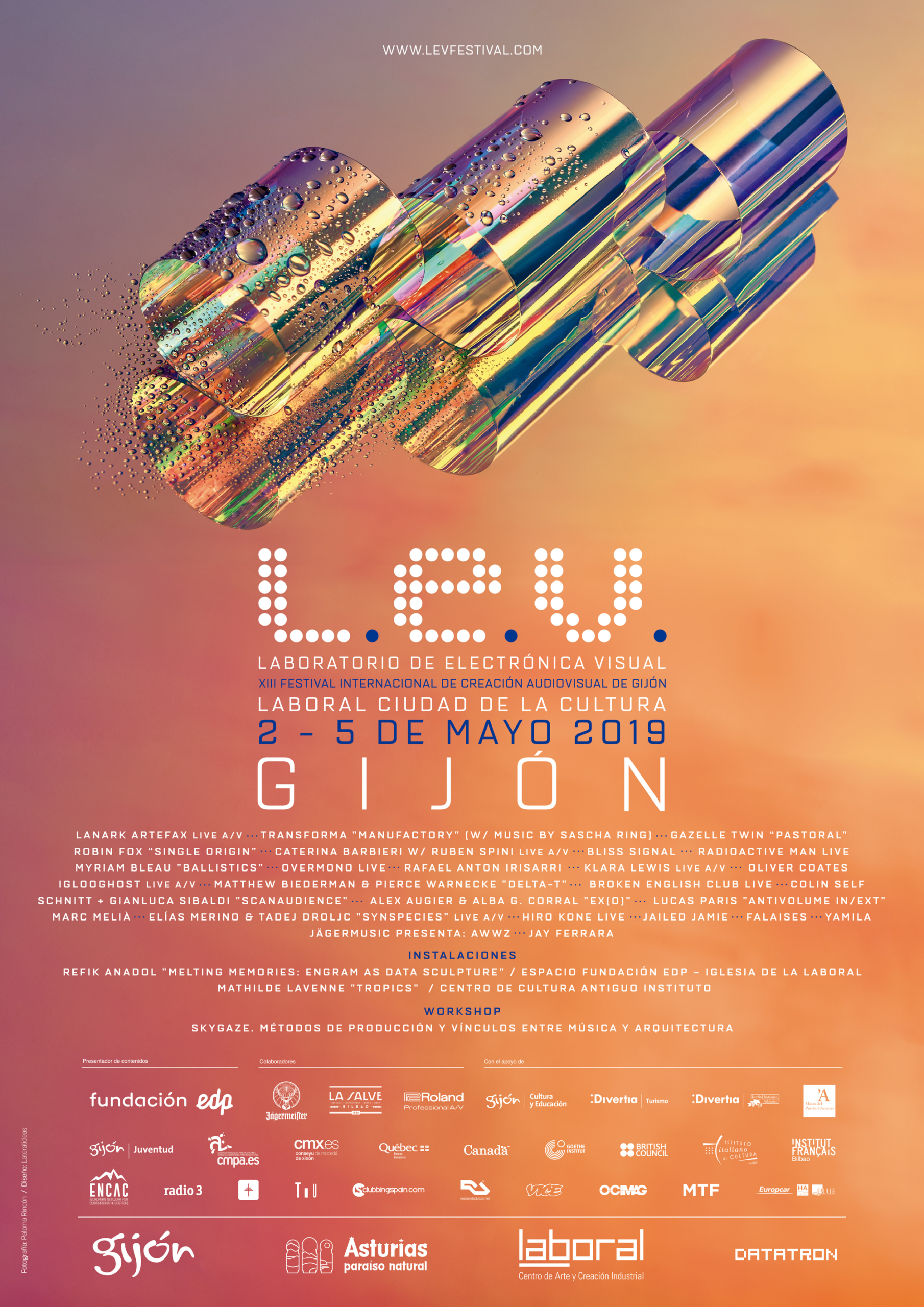 –
L.E.V. 2019 | LABORATORIO DE ELECTRÓNICA VISUAL | Edición 13 (avance)
Lanark Artefax Live A/V [Whities. UK]
Transforma "Manufactory" (w/ music by Sascha Ring) [DE]
Gazelle Twin "Pastoral" [Anti-Ghost Moon Ray.UK]
Robin Fox "Single Origin" [AU]
Caterina Barbieri w/ Ruben Spini Live A/V [Important Records. IT]
Bliss Signal [True Panther Sounds x Profound Lore Records. UK]
Radioactive Man Live [UK]
Overmono Live [XL Recordings. UK]
Klara Lewis Live A/V [Editions Mego!. SE]
Matthew Biederman & Pierce Warnecke "Delta-T" (world premiere) [CA]
Broken English Club Live [L.I.E.S. / Jealous God. UK]
Schnitt + Gianluca Sibaldi "ScanAudience" (world premiere) [Sync. IT]
Alex Augier & Alba G. Corral "ex(O)" (world premiere) [FR/SP]
Iglooghost Live A/V [Brainfeeder. UK]
Elías Merino & Tadej Droljc "Synspecies" Live A/V (world premiere) [SP/SI]
Hiro Kone Live [Dais.USA]
… and many more!